Foundation Repair Crawford Services

Concrete Slab
A concrete slab foundation is poured directly on the ground (held together with rebar or post tension cables) with a visible grade that spans the exterior.
Concrete slabs are among the most popular foundation options offered today. Though they first began rising in popularity in the 1950s, they are still favorites among many homeowners because they are incredibly cost-effective and quite quick to install. However, they can eventually develop problems, such as uneven settling and cracks. In some cases, this can lead to visible warning signs both inside and outside your home. For example, you may see cracks around your doors and windows, cracked walls and even displaced moldings.
These problems may occur for numerous reasons, such as high soil moisture, extreme weather changes, past plumbing leaks and plant roots that are growing under and around your foundation. No matter what the cause of the problem is, it is vital to address a concrete slab foundation issue immediately to reduce more extreme damage and expensive repairs later.
There are a few different options for slab foundation repair Crawford depending on your budget and the extent of your home's problems. The most affordable option is installing pressed piling piers made of concrete. These piers are drilled into the ground as deep as they can go beneath the sunken section of your foundation. They then lift this section up.
CenTex also offers our own patented slab repair option, known as CenterBeam Steel Pier repair. These incredibly strong piers use two pre-cut steel pipes placed inside each other for the greatest durability. Unlike other types of steel piers, ours are placed directly under the home's concrete beam rather than off to the side.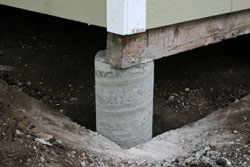 Pier & Beam
An older form of foundation repair Crawford construction, a pier & beam home sits on an elevated foundation with a crawlspace beneath. It is supported by "pier" footers made of various materials; reinforced concrete, stacked cinder blocks, or even wood posts.
The pier foundation adds a crawlspace beneath the home because it is elevated on footings made of blocks. There is typically a skirting placed around this foundation to create a more cohesive look for the home's exterior. While the pier and beam foundation's benefits are obvious, such as warmer floors and more accessible plumbing and electrical components, it is often difficult to repair simply because so few companies perform this type of foundation repair today.
To begin, we remove the skirting around the foundation and shore up the home by placing temporary blocks beneath the home's beams. Next, we install new piers, using rebar inside concrete for durability. Hydraulic jacks help make the home level before we hand-pour concrete into the final forms. Finally, we backfill holes and replace skirting if necessary.
At CenTex, we offer an incredible warranty on our pier foundation correction work. We stand by what we do so that you can feel confident in your completed foundation. While we know that you have many foundation repair companies from which to choose, you can rest assured that CenTex offers the most cutting-edge repair solutions throughout the entire Crawford area.