Every home is built on a foundation that's used to support the structure. In Kyle, TX, two types of foundations are commonly seen: slabs or pier and beam. Both types of foundation work, but there are times when problems develop and repairs are needed. See all of our Kyle foundation services we offer in Kyle, TX.

CenTex Kyle Foundation Services
Why Do Foundation Issues Occur?
In the vast majority of cases, unstable soils are the cause of foundation problems. In the Kyle area, surface soil types vary from sandy loams to gray clays. But, subsoil types also impact the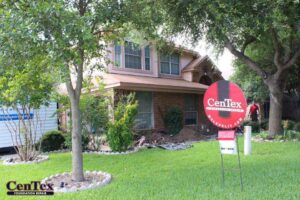 stability of home foundations, so it's not always easy to spot locations that may be prone to developing instability. 
When water saturates soils, those soils expand. That means foundations are pushed upward. That's when problems occur, especially when the upward pressure is greater on one portion of the foundation than another. Cracks show up in plasterboard, doors don't shut properly, and windows may not open or close. If you see any of these conditions, it's important to contact an expert for foundation repair before conditions worsen. 
What Happens When Foundation Problems Are Ignored?
Every property is different, but the odds are that the issues will become worse over time. What started out as minor cracking in the plasterboard may lead to major gaps between the edges of those cracks. Doors may not open or close at all and sliding or larger doors may see glass breakage. In other words, the exacerbated damages require more costly repairs. 
How Should Homeowners Proceed with Kyle Foundation Services?
The first step is to contact the Kyle foundation services repair team in Kyle, TX, for advice. Foundation inspections allow our experts to determine where the problems are and develop a strategy to resolve the issues effectively. 
Since no two situations are exactly alike, we'll take the time to come up with a tailored solution to meet your home's needs. Of course, we understand how stressful dealing with this type of issue can be, and we'll take the time to explain why we're making certain recommendations. Once the problem is clear, it's easier for homeowners to understand why we're suggesting a specific type of repair.
How Are Slab Repairs Carried Out?
The concrete slab a home sits on appears, from the surface, to be the same thickness everywhere, but that's not the case. When a slab foundation is poured, the concrete is thicker in areas where more support is needed. Those areas are generally around the edges of the slab and where support walls will be located directly above the slab. 
When a slab shifts, the idea is to take steps that will make it level once again. Depending on the situation, we'll recommend either our patented CENTERBEAM Steel Pier® system or using concrete pressed pilings to re-level the slab. Both strategies work well, and the specific foundation problems your home is experiencing will determine which solution would be best. 
Remember, while the first objective is to eliminate the existing problems, it's also important to take steps to reduce the potential for additional problems in the future. That's why we're so fussy when evaluating your home's foundation problems before we suggest a repair strategy. 
Dealing with Pier and Beam Foundation Problems
Even though slab foundations have been around for a long time, there are still many homes in the Kyle, TX, area with pier and beam foundations. Soil instability is still the major cause of problems with this type of foundation, but the repairs are made differently. 
As with slab foundations, a pier and beam foundation repair starts with a careful evaluation of the issues to determine how to proceed. In some instances, only a single pier will require replacing. In other cases, multiple piers replacements may be needed. 
With older piers, deterioration may occur. It's also possible that poor materials were used, or the piers were not properly installed or spaced. When repairs are required for one pier, it's a good time to determine if replacing other piers or adding additional ones would benefit the home. 
At Centex Foundation Repair our team starts pier repairs by shoring up the structure to prevent any additional damage to the structure. Once the shoring is completed, the new piers are poured. When the concrete piers have properly cured, the home is leveled to eliminate slanted floors, problems opening and closing doors and windows, and drywall cracking. 
Confronting Related Site Issues
At the same time foundation issues are dealt with, it's also important to address any site issues that contributed to the foundation problems. In other words, property owners should take the time to review the site's drainage issues that contributed to the problems. 
Remember, the soil conditions contribute directly to foundations heaving, which suggests it makes sense to look for ways to mitigate any conditions that contribute to the expanding and contracting of soils as they become saturated and then dry out. 
In some cases, that will mean making changes to the slope of the ground around the home so water drains better. If more water is directed away from the home, the level of soil saturation can be reduced. Our team of experts will recommend corrections to the site's drainage to reduce the odds of new problems developing in the future.
It's also important to consider adding or improving the home's gutter system to further aid in moving water away from the home. When water is allowed to cascade freely off the home's roof, it will wash away soil from around the foundation area, making soil saturation problems worse. 
Get the Kyle Foundation Services You Need Today
If you see any indication of a foundation problem, now is the time to contact your Kyle, TX, foundation professionals. We're always happy to schedule an evaluation of your home's foundation. After an inspection, we'll be able to determine what issues are causing the problem and determine what steps should be taken to remediate that problem. 
Remember, we know every home is different, and our foundation experts will take the time to review any issues and present the available options for correcting the problems. Contact our team now for advice.