When deciding which home improvement projects to do and which ones to the sideline, you'll want to pay close attention to your home's foundation. Several issues can cause foundation problems, but the most prominent one is a settlement. Your home's foundation will sink unevenly and possibly crack in these cases. Besides causing significant structural damage, foundation problems can leave your home open to pest infestation. While most homeowners don't notice foundation problems right away, there are some telltale signs that your home needs foundation repair.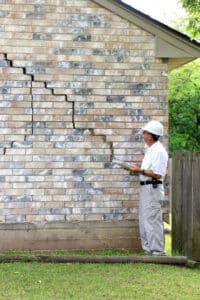 Bowed Basement Walls
 You love the look of the historic home that just popped up on your real estate agent's listing feed. However, she warns you not to fall in love with the place until she has a chance to take you on an in-person viewing. When you took a look at the home's bowed basement walls, you understood the reason for her hesitation. Bowed basement walls primarily happen when dry or water-soaked soil expands and pressure the home's foundation walls. Bowed basement walls tilt inward, and if the inward tilt is more than half of the wall's thickness, most foundation specialists recommend replacing the foundation. For example, a 10-inch thick wall that bows inward more than 5 inches will likely need to be demolished. Otherwise, there are several foundation repair solutions for bowed basement walls.
Foundation Repair for Water Intrusion
 When your home's foundation sinks, becomes uneven, and cracks, your plumbing may be impacted. Pipes are laid close to your home's foundation, and they can crack and break with shifting foundation concrete. This will cause unexplained water intrusion and moisture damage. If the problem isn't addressed correctly, the moisture in your home will exceed acceptable levels making it a breeding ground for hazardous mold and mildew.
Hard to Open Doors and Windows
 Doors and windows that are hard to operate are well-known characteristics of older homes. Most people attribute these limitations to old hardware that they can replace. However, most doors and windows that stick don't need new hardware at all. The root of the problem often lies with an unstable foundation that has caused walls or flooring to shift.
Cracks in Walls
 Some of the most common symptoms of a home that needs foundation repair are cracks in walls. Whether the walls are bowed from external pressure or shifted because of a sunken foundation, they nearly always show cracks in the drywall. If you've installed tile on a kitchen backsplash or a tub surround, you'll likely see cracked tiles if your home needs a foundation repair. 
Foundation Repair Work
 Putting off foundation repair projects will end up costing you more money in the long term. If you suspect that your foundation needs repairs, it's best to skip the home inspector and enlist the services of a structural engineer. They can give you an unbiased look at the actual state of your home's foundation and the types of repairs that you'll need to do to bring it up to standards.