If you are living in the Bastrop, TX area in a house with a pier and beam foundation, it is important to be aware of the potential for the house to settle and crack. This is because pier and beam foundation alone is unable to support the structure on top. If you are noticing that your floors are not level, or if you are seeing signs of settling or cracking, it is important to have your house leveled promptly. This involves adding additional support under the beams to bring them back up to level. Leveling will fix all of your flooring problems and make your house more structurally sound.
Factors that affect your House leveling and Foundations
There are many factors that can affect your home's foundation leading to some serious consequences if not handled in time. These factors include natural phenomena such as age, weather, moisture, termites, etc, which can damage and degrade the overall structure, as well as affect the levelness of the floors.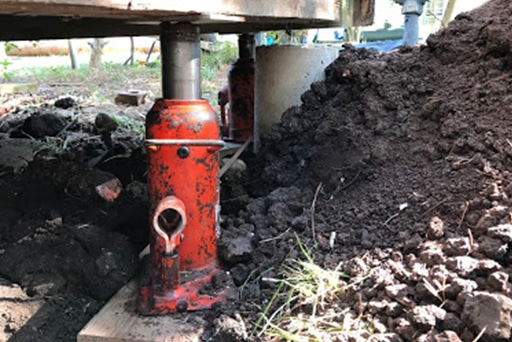 If you're having problems with a settling or cracking foundation, our house leveling team at Bastrop, TX can help. We specialize in home leveling on pier and beam foundations, and we have the experience and expertise to get the job done right, and we honor our warranties as we honor our word!.
Don't wait until your home is in danger of collapse. Call CenTex Foundation Repair's house leveling-Bastrop team today! We'll be happy to assess your situation and provide you with a solution that will keep your home safe and sound for years to come.
Something about Bastrop
Bastrop, Texas, was first incorporated under the laws of the Republic of Texas on December 18, 1837. It was named in honor of Stephen F. Austin's secretary, Baron de Bastrop. The town is located in Bastrop County and overlooks the Lost Pines Forest, composed of loblolly pines (Pinus taeda) and is the center of the westernmost stand of the southern pine forest. As the only timber available in the area, the forest contributed to the local economy. Bastrop began supplying Austin with lumber in 1839 and then San Antonio, the western Texas frontier, and parts of Mexico.
A fire in 1862 destroyed most of downtown Bastrop's commercial buildings and the county courthouse. As a result, most current downtown structures postdate the Civil War. In 1979, the National Register of Historic Places admitted 131 Bastrop buildings and sites to its listings. This earned the town the title of "Most historic small town in Texas."
The economy of Bastrop has transitioned from forestry to tourism, education, and manufacturing. The Lost Pines Forest remains an important aspect of the town's economy and identity.