If you own a home in Austin, TX, chances are good that it's built on a pier and beam foundation. And if your home is on a pier and beam foundation, there's a chance that it may have already settled or cracked.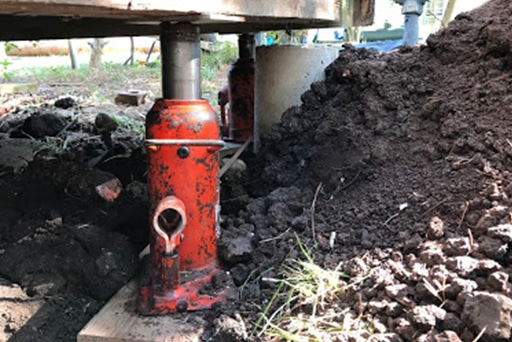 This is because the wooden beams at the base of these types of structures are not able to support the weight of the house above them. Over time, this can lead to serious problems with the levelness of your floors and the overall stability of your home. That is why, over time, your house needs leveling.
Factors that affect your House leveling and Foundations
Certain factors can affect your Austin, Texas homes which can lead to some pretty serious consequences if not handled in time. These include age, weather, moisture, and termites. But regardless of the cause, it's important to address the problem as soon as possible. Our House leveling service can change that.
If you're having problems with a settling or cracking foundation, our team at Austin, TX can help. We specialize in leveling homes on pier and beam foundations, and we have the experience and expertise to get the job done right; and with our House Leveling Services, you also get our warranties that we honor as well as our word.
Don't wait until your home is in danger of collapse. Call CenTex Foundation Repair today! We'll be happy to assess your situation and provide you with a solution that will keep your home safe and sound for years to come.
Something about Austin
With Gross domestic product (GDP)  of $86 billion in 2010,  Austin is regarded as a significant high tech hub. The University of Texas at Austin's engineering and computer science schools produce tens of thousands of graduates each year, serving as a consistent source of talent for Austin's defense and technology industries. In their annual study, Forbes ranked the Austin metropolitan area first among all major cities for jobs in 2012, and WSJ Marketwatch ranked the area first for expanding businesses. Both rankings were a result of the city's strength and will to expand its horizon.