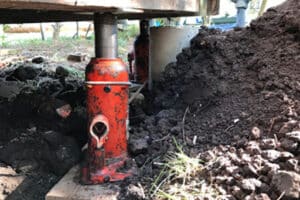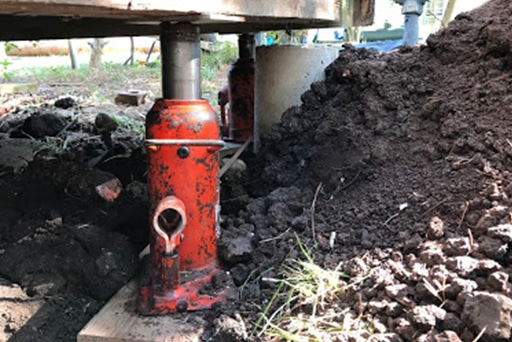 Understanding Pier & Beam Foundations: A Comprehensive Guide
Learn tips, best practices, and understanding pier and beam foundations from CenTex Foundation Repair. In the world of home construction, foundations are pivotal to the structural integrity of a building. At CenTex Foundation Repair, we believe in understanding the critical types of foundations and how they work. This guide delves into one such type – the Pier and Beam Foundation. We'll discuss its construction, benefits, and common problems that may require our professional attention.
What is a Pier & Beam Foundation?
A Pier and Beam foundation, a post and beam or crawl space foundation, essentially lifts the house off the ground to provide an accessible space underneath. It consists of vertical wood or concrete pillars (piers) that support horizontal beams. These beams, in turn, support the floor joists of the home. The "crawlspace" created by this foundation is typically 18 inches to a few feet high, enough for a person to crawl under for easy access to utilities.
Benefits of Pier & Beam Foundations
Pier and Beam foundations are a robust and reliable choice for many homeowners and offer a range of additional benefits. Here are some of the critical advantages of understanding Pier & Beam Foundations, as outlined by the experts at CenTex Foundation Repair:
Easy Access to Utilities: One of the main advantages of pier and beam foundations is the crawlspace they create beneath the property. This provides easy access for inspections, maintenance, or repairs of plumbing, electrical, and HVAC systems.
Protection against Floods: These foundations elevate the house off the ground, protecting against water damage in flood-prone areas. The elevation allows water to flow beneath the home, keeping living spaces dry.
Comfort and Insulation: The air space under the home can act as a natural insulator, helping to keep your floors warm in the winter and cool in the summer. This can contribute to overall home comfort and energy efficiency.
Other benefits of Pier & Beam Foundations
Flexibility in Uneven Terrain: Pier and beam foundations can be an excellent choice for properties built on a slope or uneven ground. The piers can be made to different heights, accommodating variations in the terrain.
Ease of Modification: If you decide to change the layout of your home in the future, a pier and beam foundation can make this process easier. The crawlspace allows for plumbing or electrical design modifications without significant disruption.
Reduced Soil Impact: Unlike slab foundations, pier and beam foundations require less extensive excavation and thus have a reduced impact on the surrounding soil.
Durability: When adequately maintained and inspected regularly by a qualified expert such as those at CenTex Foundation Repair, a pier and beam foundation can provide a long-lasting and durable base for your home.
Despite these benefits, pier and beam foundations require regular inspections and maintenance to prevent and address potential issues such as wood rot, pest infestations, and foundation shifting. That's where our team at CenTex Foundation Repair comes in, ensuring the health and longevity of your pier and beam foundation.
Common Problems with Pier & Beam Foundations
Pier and Beam foundations, while offering numerous benefits, can also face specific issues over time. Here are some common problems, along with how CenTex Foundation Repair can address these issues:
Shifting Piers: Over time, soil movement can cause the piers to shift, leading to an uneven or unstable foundation. Our team at CenTex Foundation Repair has the skills and expertise to realign and stabilize the piers, ensuring the structural integrity of your foundation.
Wood Rot and Pest Infestations: Being made partially or entirely of wood, these foundations can be prone to wood rot or pest infestations. We provide comprehensive inspections to detect any signs of wood rot or pests and take necessary actions to rectify the problem and prevent future occurrences.
Water Damage: If not adequately protected or ventilated, the crawlspace beneath your home can become a breeding ground for mold and mildew due to moisture build-up. Our team can install proper ventilation systems and vapor barriers or even encapsulate the entire crawlspace to prevent such issues.
Other Common Problems of Pier & Beam Foundations
Poor Ventilation: Lack of proper ventilation in the crawlspace can lead to damp conditions, promoting wood rot and mold growth. We ensure your crawlspace is well-ventilated, installing additional vents or fans if necessary.
Insufficient Insulation: While the crawlspace under a pier and beam foundation provides natural insulation, it can be inadequate in certain climates or conditions. Our team can provide additional insulation solutions for maximum energy efficiency and comfort.
Sagging Beams or Joists: The beams or floor joists may sag over time due to excess weight or damage. At CenTex, we can reinforce or replace these structural elements, ensuring your home's safety and stability.
At CenTex Foundation Repair, we believe in proactive maintenance to prevent severe damage and costly repairs. With regular inspections and timely intervention, we ensure your pier and beam foundation remains solid and secure, providing the best support for your home.
Remember, early detection of foundation problems can save you from costly repairs. Therefore, regular inspections by a qualified expert from CenTex Foundation Repair can help you maintain the health and longevity of your pier and beam foundation.